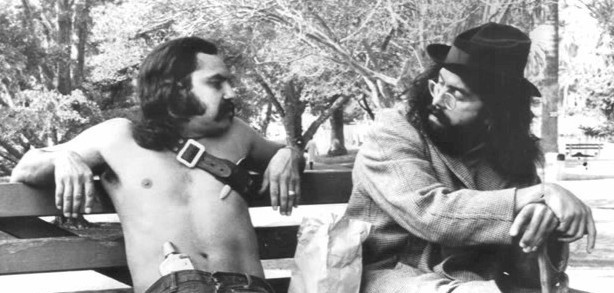 We all know and love Tommy Chong for his part in the comedy duo "Cheech and Chong". For years they made us laugh with their "high" antics and scruffy hippie looks.
Even in Tommy's solo career, he was known as the "high hippie" Leo, on the TV program That 70″s Show. I would say, that it is safe to say, that when you think of pot or marijuana, Tommy Chong is a person that comes to mind.
I wasn't completely shocked when I first saw that Tommy Chong had his own hemp-derived CBD line called, Tommy Chong's CBD. Although, I asked myself, what on earth could hemp-derived CBD be doing for Tommy Chong that pot isn't, and why is he so excited about it?
Sparking my curiosity, I began to research Tommy Chong's CBD. I have always known him for marijuana usage, but hemp is a totally different story.
How Did Tommy Get Into CBD?
So what makes a pot-smoking hippie turn to hemp? That was my biggest question concerning Tommy Chong.
After researching and learning more about Tommy and his situation, I began to understand why he had to turn to hemp-derived CBD versus marijuana.
See, Tommy got busted for the silliest thing, but he had to do prison time for it no matter how silly it was.
What was this silly thing? He was backing a glass pipe company before marijuana was legalized for medical or recreational use. So in Layman's terms, he was aiding the sales of paraphernalia.
Not pot, just pipes. Yeah stupid right, pipes have been being sold for so long. People got away with selling glass pipes saying they were for "tobacco use" for years. Basically, it was a crock of crap.
Tommy took his punishment and did his time, regardless of how he truly felt about the situation.
Upon release, he was considered a felon, meaning that he could not be around marijuana of any kind. He quit cold turkey before going to prison, and then couldn't use marijuana afterward either.
Upon quitting smoking pot, Tommy noticed a lot of changes, and they were not good. He was constantly tired, had no appetite, and wasn't sleeping well.
Of course, he attributed most of this to the stress of court and prison. That's when things took a serious turn for Tommy.
He announced that he was diagnosed with Prostate Cancer on June 9, 2012. He began the grueling cancer treatments right away.
His cancer treatments were kicking his butt and he felt like hell honestly. He needed change and began researching more cancer treatments.
That was when he discovered CBD. A friend told him to watch a documentary about a Canadian farmer, Rick Simpson, and his "miracle" medicine he called Rick Simpson Oil (RSO).
RSO is full/broad-spectrum CBD oil with CBD in high concentrates, made from using the entire hemp plant. This old Canadian farmer had been making and selling it for years illegally.
Tommy wanted to try it to see if it would help him in any way at all. It was worth a shot, heck he had cancer, what could it hurt?
By this time, marijuana had become legal in California for medical use. Being a cancer patient put Tommy at the top of the list for approval.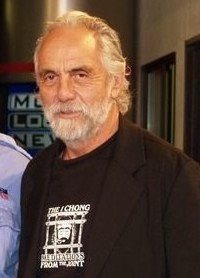 Tommy went to his doctor and got his medical card so he would be able to legally use marijuana. Then he went to the dispensary and bought a bunch of marijuana and made a batch of the RSO himself.
He said it tasted awful, just like ground-up grass from the lawnmower, in a milkshake. He took his yucky oil, and smoked some marijuana too, to help with the cancer treatments.
He said that his cancer treatments began working better, and he began to feel much better as well. He was amazed at how much better he felt.
He wanted to share his discovery with everyone, Tommy became the Cannabis Evangelist. Telling anyone that cared to listen to his story, and fighting for the legalization of marijuana and hemp.
He started his own line of CBD and was excited to share it with the world. He had record sales, but then started getting reports that CBD wasn't working well for others. Not like it worked for him.
Not sure why this was, Tommy began researching and asking all the smart people he knew. No one had an answer.
Then, just by chance, Tommy attended a fundraiser and was seated at the same table as Dr. Clark, the man that would eventually create the Tommy Chong's Nano CBD line.
Who is Dr. Clark? He is an award-winning doctor that's been researching human health and creating pharmaceutical-grade health supplements for decades.
He leads a top GMP-certified lab in Utah that produces some of the safest and most effective health products in the world. Tommy was already taking one of Dr. Clark's supplements and didn't even know it.
Summed up, Tommy and Dr. Clark figured out what needed to change for people to get the full effects of CBD. The delivery was all wrong and the CBD just isn't as effective as it could be.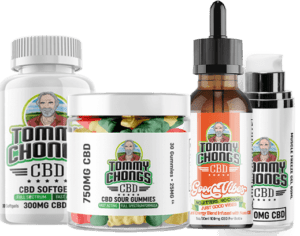 Tommy Chong's CBD, sells a variety of CBD products, including oils, gummies, and topical creams. One of the most popular products is the Nano CBD line, which uses a nano emulsion technology to create smaller CBD particles that are said to be more easily absorbed by the body.
So, does Tommy Chong's Nano CBD work? There is some evidence to suggest that it may be effective. A 2019 study published in the journal "Frontiers in Pharmacology" found that nano-encapsulated CBD was more effective at reducing pain and inflammation than traditional CBD oil. Additionally, a 2020 study published in the journal "Neurotherapeutics" found that nano-encapsulated CBD was more effective at treating anxiety and depression than placebo.
My Experience With Nano CBD
I recently had the opportunity to try Tommy Chong's Nano CBD Gummies. I was impressed with the taste and texture of the gummies. They were not too sweet and had a pleasant fruity flavor. I also found that they were easy to digest. I also got the tinctures for both day and night.
Overall, I was very impressed with Tommy Chong's Nano CBD Gummies. I found them to be effective and easy to use. I would definitely recommend them to anyone who is looking for a high-quality CBD product.
The day it showed up, which was like 2-4 days after ordering, I had just gotten off work and I felt so awful. I wasn't sure if I was having a slight heart attack or not, still not sure looking back.
In the center of my back, it was so tight and painful, like someone was clutching my spine and twisting. Right between my shoulder blades. That was the stem of all my pain and discomfort.
To go along with that pain, my legs were cramping and sore, and my arthritis was flaring up like none other. It was just an awful day and I was a mess.
I got the message that my order was delivered, which I thought was cool, so I checked my mail on the way home.
I had to run and get gas before going to my apartment, I sure did not feel like it, but I needed it badly.
When I pulled into the gas station, I decided to rip my package open and try a dose. I wasn't going to wait to get home.
I opened the Good Vibes (day-time formula) and took two doses. I really felt awful and wanted some form of relief and now. I was hoping this Nano CBD was as good as everyone was saying.
The flavor took me by surprise, it is like a mango with a lot of citrus. I remember reading the instructions, and them saying to hold it under the tongue for 30 seconds.
I failed miserably with a full dropper.
I salivated so much I had to swallow my dose way before 30 seconds. With the second dose that I decided to take, I put smaller amounts at a time and was able to hold it for the required time.
Then I got out and pumped my gas, on my way home I notice that the tightness between my shoulder blades had eased up quite a bit. Before the Nano CBD, it was so tight and painful, uuggghhh, I don't even want to remember it.
By the time I got home which is literally 5 minutes from the gas station, my legs felt less stressed as well. When I got out of my truck, I didn't use the "oh shit" handle like I usually do for stability.
I simply couldn't believe how much better I felt. Then I got a bit excited thinking about taking the PM formula Nice Dreams before bedtime.
I took my dose before bed, just as I walked my dogs. I started to feel a bit relaxed while walking them, when the walk was done, I went straight to bed and slept like a log.
Some people say they sleep like a baby, but babies wake up fussy sometimes, and I surely did not. So I slept like a log. I get up very early for work, and when my alarm went off, I felt refreshed, but I really wanted to stay in bed and relax more.
Not that I needed to, I just wanted to. I got out of bed reluctantly and felt great. I took my dose of Good Vibes, drank my coffee, and headed off to work.
The end of my workday was the tell-all on how well Good Vibes worked honestly. Just the day before I felt awful when I left work, and every day was pretty much the same.
But that day, I honestly felt a lot better than normal. The tightness I always get between my shoulder blades was a lot less intense. My legs and hips were not cramping and aching from standing all day. I felt more like I did in my 30's than almost being 50.
I could smoke pot and feel better too, I have. But it is way more acceptable to take some CBD before and during work than to smoke a bowl or joint, even in a legal state.
What Are Potential Uses For CBD
CBD is a naturally occurring element in the hemp plant. There are several cannabinoids found in full-spectrum and broad-spectrum oils, but CBD has been the main focus.
There have only been clinical studies on how CBD helps with epilepsy, Epidiolex, is the medication made from CBD used by many patients (contains THC).
Aside from epilepsy case studies, all CBD claims are from individuals, not scientists or doctors.
It has a wide range of uses depending on who you ask. Some people use CBD for pain management, which it works wonderfully for. While others use it for mental clarity and focus.
Tommy Chong's Nano CBD products are said to offer a variety of benefits, including:
Pain relief
Anxiety relief
Stress relief
Sleep improvement
Reduced inflammation
Improved skin health
CBD in general, is said to have some wonderful health benefits, such as helping with…
Anxiety
Epilepsy
Parkison's disease
Huntington's disease
Glaucoma
Sleeping disorders
Help treat Diabetes
Helps with Acne
Joint Pain Treatment
Anti-inflammatory
Helps Quit Smoking
Neuroprotective Benefits
The list I have accumulated is combined with several reviews I have read that were written by people who have used CBD.
I encourage you to do research as well, it never hurts to get more information. Knowledge is power.
There are a few cases of people with very sensitive systems having side effects, but most people do not. Some side effects include dizziness anxiety and depression, and very rare but it does happen in psychosis.
Tommy Chong's Nano CBD: A Review
Tommy Chong is a well-known actor and comedian who has also become a vocal advocate for the use of CBD. His company, Tommy Chong's CBD, offers a variety of CBD products, including tinctures, gummies, and topical creams.
One of the unique features of Tommy Chong's CBD products is that they use nano CBD. Nano CBD is a type of CBD that has been broken down into very small particles. This makes it more easily absorbed by the body, which can lead to faster and more effective results.
I recently had the opportunity to try Tommy Chong's Nano CBD Gummies. I was impressed with the taste and texture of the gummies. They were not too sweet and had a pleasant fruity flavor. I also found that they were easy to digest.
I took two gummies in the morning and two gummies in the evening. I noticed that I felt more relaxed and focused throughout the day. I also slept better at night.
Overall, I was very impressed with Tommy Chong's Nano CBD Gummies. I found them to be effective and easy to use. I would definitely recommend them to anyone who is looking for a high-quality CBD product.
Here are some of the pros and cons of Tommy Chong's Nano CBD:
Pros:
Made with nano CBD, which is more easily absorbed by the body
Variety of products to choose from, including tinctures, gummies, and topical creams
Good taste and texture
Easy to use
Affordable prices
Cons:
Some products may contain artificial flavors or colors
Some products may not be organic
Some products may not be vegan or gluten-free
Overall, Tommy Chong's Nano CBD is a good option for people who are looking for a high-quality CBD product. The products are effective and easy to use, and the prices are reasonable. However, some people may be turned off by the use of artificial flavors or colors in some of the products.
If you are considering trying Tommy Chong's Nano CBD, I recommend starting with a small amount and gradually increasing the dosage until you find what works best for you.
Remember: always consult with your physician about any supplement when treating any illness, be it physical or mental. Never self-diagnose or self-treat, this is very dangerous!
Is CBD Safe To Use?
Yes, CBD is very safe to use, while there have been no reported cases of overdose, you should always follow the recommended doses on the bottle for maximum benefits.
This is a great alternative for medical marijuana because you get all the good cannabinoids without the THC, this means, you will not get "high" from using CBD.
Only getting the medical benefits, is great for people that don't want to get a "high" or intoxicated. While pot is not for everyone, CBD could be.
As found by the Mayo Clinic, CBD use also carries some risks. Though it's often well-tolerated, CBD can cause some mild side effects, such as dry mouth, diarrhea, reduced appetite, drowsiness, and fatigue.
CBD may also interact with other medications you're taking, such as blood thinners. This is why you should always consult your physician before taking ANY supplements.
CBD Is A Personal Choice
In the end, it is a personal choice whether CBD products are right for you. It is not a cure-all of any sort, it is just a wonderful supplement that is now available to be enjoyed by all that care to use it.
There are some wonderful stories out there from people who have benefited from using these products. As with any supplement, it will work differently for each person. Each person has their biological makeup, if you are sensitive to this product it may not be for you.
If you feel that you would like to try it or if you need to reorder, feel free to click on any of the product links in this article, any link will take you to Tommy Chong CBD official site.
I would love to hear your opinion on Tommy Chong's CBD products, feel free to leave a comment below and I will get back to you as soon as possible!
Thank you as always.
Stacie Fortson
Go Green With Hemp
Please take a moment to enjoy a few words from Tommy about his stance on Marijuana and Medical Grade Hemp.

We want people to hear my name, and see my face to know that I stand behind every single bottle of Tommy Chong's Nano CBD.
"I put my name on it, so you know you can trust it" -Tommy Chong