Tree Tribe Review: They Plant 10 Trees With Every Purchase!

Wow, what a great company I stumbled across this time! They do not utilize hemp in their products yet, but they are a green company with a great output for our environment. With every product purchased, they plant ten trees.
Yes, you read that correct! They plant 10 trees with every purchase!
How on earth can I not promote such a wonderful company! Tree Tribe has my vote all the way! Buying their clothing is a wonderful investment for you and the planet!
All of their items are made from organic cotton and other Eco friendly materials. When you follow the link to their store, you should check out their about page, there is a wonderful video about them and the trees they have planted.
At Tree Tribe they have four core values, they are nature, adventure, travel, and community. With the community they have grown, they have planted over 300,000 trees in 12 countries, and are on a mission to plant millions.
Help plant some trees today, place your order with Tree Tribe!
Black Rasta Hoodie
The Black Rasta Hoodie is a classic style of hoodie. Built for comfort and warmth, it is made from 100% organic fleece cotton, and comes in three of sizes. You can wear this hoodie all year long, and with any outfit!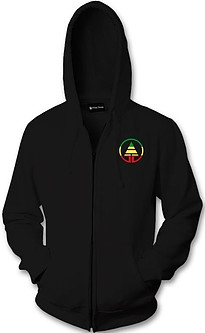 Small, Medium, and Large
Made with 100% organic cotton
VERY Comfortable
10 Trees planted with each purchase!
Purchase price $60.00
Consumers Have More Power Than They Know
Remember how I said that we can make a difference through our purchases, this is major proof right here. This company not only uses organic materials, but they also plant trees with every purchase.
We as consumers can forces manufacturers to use the types of materials that are safer for us and the planet. This can be done by only buying products that are made of them.
Manufacturers that are using unsafe or unapproved materials will either have to jump on the band wagon or go out of business.
In turn when all the manufacturers are using the correct materials to suite the demand, the prices will drop for these items. We benefit in more than just one way from this.
We help the planet, by using Eco friendly products. This in turn helps us because the planet will survive longer and our health in the long run will also be better. And the products will be even more affordable when they are more widely used.
More Products In The Works
While Tree Tribe's list of products is not very extensive as of now, they have plans on creating even more products than they currently have, and they take requests as well. Also, they are experimenting daily with more innovative Eco friendly materials.
I really like what these guys stand for and appreciate what they are doing worldwide! They see the current situation our planet is in, and they are trying to help in many ways.
Customer Service From Tree Tribe
Their customer service team is aweome! Very friendly folks at Tree Tribe for sure. They offer a 30 hastle free return and refund policy.
Free shipping on all orders over $50, which is very generous of them I think. All other shipping is as follows:
USA
Standard Shipping (3-7 days): $4.50
Expedited Shipping (2-4 days): $8.00
CANADA & MEXICO
International Standard Shipping (6-10 business days): $9.75
EUROPE
International Standard Shipping (6-10 business days): $12.50
AUSTRALIA/OCEANIA
International Standard Shipping (7-12 business days): $12.50
CENTRAL AMERICA
International Standard Shipping (6-10 business days): $14.50
SOUTH AMERICA
International Standard Shipping (7-12 business days): $14.50
AFRICA
International Standard Shipping (7-12 business days): $14.50
ASIA
International Standard Shipping (7-12 business days): $14.50
ANTARCTICA
Free shipping to Antarctica if you post an Instagram pic from there 
*If you don't see your country on the shipping options, contact Tree Tribe at support@treetribe.com, they will be more than happy to answer all of your questions.
Be part of a great thing, plaace an order today with Tree Tribe!
As always thank you for reading my review, if you have any questions or would just like to leave your opinion, please feel free to leave a comment.
Stacie Fortson
Go Green With Hemp