How do you start a conversation about underwear? I guess you just put it all out there.
This is my first time buying panties online, I really felt that I had to admit that for some reason, not sure exactly why, but…
I usually go to VS (Victoria's Secret), but I wanted hemp undies and Vicki doesn't carry them, or at least not that I have ever seen. So, I went to Google to see what I could find. I found so much that it was scary. Then I came across what I think is the best hemp undies I had seen offered. I had to try them, who offered them?
WAMA is the website I came across. They have a mission I can believe in and they offer to replace or refund the first pair if I was not satisfied and they didn't want me to return my used panties either. To me, this was a win-win situation.
I thought about getting just one pair as the price is a little steep, but then I thought, if I only get one pair and love them, I will be mad at myself for only getting one pair. So, I ordered the 3 pack of bikini briefs and saved $4 a pair.
I was super happy I did when they arrived too. By far, they are the comfiest panties I have ever owned in my life, I will be buying the 6-pack on my next purchase for sure. I forget that I even have panties on when I am wearing my WAMA hemp panties. VS could learn a thing or two from these guys on comfort and functionality.
VS panties stretch out throughout the day and ride up my crack, sorry for being so blunt, but they do. The bikini briefs from WAMA do not stretch out during the day and they stay put, they are fuss-free panties that I didn't think existed. They are a 'must-own' item in my opinion.
Give WAMA Hemp Underwear a try, if you don't like them you can get a full refund no questions asked.
Name: WAMA Hemp Underwear
Price: 1 pair starts at $24 (women) and $28.00(men) you save when you buy more.
Overall Rank: 8/10, I would give a higher ranking if the price was a little better, the quality, however, deserves a perfect 10/10.
Underwear is the most personal purchase we make, after all, they cover our most sensitive and private areas. Yet we think very little about the fabric they are made from. All too often we are more concerned with getting the best value versus the best quality. Our private areas deserve better.
Cotton is probably one of the most used fabrics for making underwear, and possibly the worst as well. We all know that cotton has a huge tendency to shrink after washing and lose its shape and elasticity while wearing it. Yet we continually buy more cotton undies. Why?
Well, there used to be very little variety in underwear material, so we were stuck with stinky staining cotton panties and underwear. (Yes, there is a difference, panties are delicate, and underwear are not as delicate.)
These days we have way more options, there is no need to settle for poor-quality material.
Hemp underwear is naturally anti-bacterial and contains anti-odor properties, not to mention it is also hypo-allergenic. Honestly, aside from a great fit, what more could you ask for from a pair of underwear? Let's be honest, controlling moisture and odor are huge concerns when it comes to our private parts.
One of WAMA's promises is, "If you're not happy with your first underwear purchase, contact them and they will either send you a different size or color, or they will happily provide you a refund, no questions asked and no return of the product is necessary."
Men's Selections
Guys, WAMA has you covered no matter what style of underwear you prefer from boxers to briefs (no man thongs sorry) prices start at $28 for one pair, 3-pack for $80, 6-pack for $154, and 10-pack for $236.
Trunk underwear are form-fitting and short in the leg, thus providing prime mobility for whatever sort of day lies ahead of you. An added bonus our hemp trunks won't bunch no matter what pants you wear with them, not to mention, they're superbly comfortable too.

Men's boxers offer the airish liberation you crave aligned with the comfort you need. You'll be shouting from the rooftops when you taste true freedom in our hemp boxers. To top it all off, they don't bunch and provide enough support to keep you feeling secure even on the toughest day.
Men's briefs make easy work of supporting your package with the least amount of fabric. Have the benefit of all-day wedgie-free wear in the most comfortable hemp briefs on the planet. The classic cut and style of these briefs work with any pair of pants, shorts, or no pants, that part is totally up to you.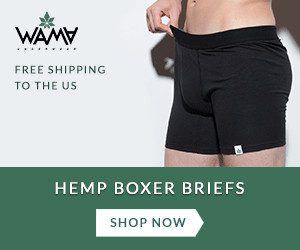 Men's boxer briefs provide the fitted form you find in trunks with the longer length of boxers. They are essentially the best of both worlds, to be honest. Plus, the hemp men's boxer briefs stay put. Say goodbye to bunching up and gnarly wedgies, and say hello to complete comfort.
Women's Selections
Ladies WAMA was very thoughtful with our styles, they knew we would be much pickier than the guys. We have hipsters, bikinis, thongs, boy shorts, and the high wasted to choose from. Our prices start at $24 for one pair, a 3-pack for $69, a 6-pack for $132, and a 10-pack for $200.
Hipster panties offer the perfect balance between comfortable coverage and a little sexy cheekiness, therefore, making them totally fit for daily wear. With a low-rise waist and flexible waistband, you'll prefer to wear WAMA breathable hemp hipster panties under any outfit.
Bikini underwear is specially designed to be complementary to our many shapes. Just the right amount of cheekiness for every-day wears with absolutely no slippage so you'll remain comfortable no matter what. These soft, yet durable hemp bikinis are so cozy, you could possibly forget you're wearing them.
Thong underwear made with hemp provides unbelievable comfort you wouldn't normally expect could exist in a thong. Give your cheeks the freedom they deserve— with a stretchy low-rise waist, you won't have to sacrifice all-day comfiness. Avoid dreaded panty lines and feel good knowing your hemp thong is both sexy and naturally soft and breathable.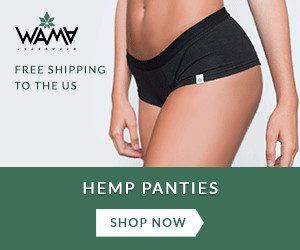 Boy shorts underwear provides you with complete coverage and optimum comfort. With a comfy fit that doesn't ride up, WAMA hemp boy shorts are perfect for wearing under any outfit at any time. Kiss the dreaded panty lines goodbye and avoid all the cheekiness with hemp boy shorts.
High Waisted Underwear that is comfortable under your favorite pair of high-rise jeans. We all know we call these "granny panties" and we all know that we have at least one or two pairs as well. They are designed for a secure and supported fit. Providing comfort as well as security with more cheek coverage than the bikini style, yet still modestly cheeky to keep you feeling sexy.
They also have two bralette styles to choose from, either the triangle cup or the sports bra (racerback), both priced at $44 for one bralette or, a 3-pack of either style for $125, and a 6-pack for $238.

Triangle Bralette the typical cup shape of most bras, is designed for everyday wear. The triangle shape enables it to be a perfect match for low-cut looks, as well as any other looks or styles you prefer. This bralette provides a traditional fit with adjustable, convertible straps and no underwire. This is a supportive design, with a double-layered fabric made from WAMA's signature hemp fabric blend so you know you're naturally completely protected.
Racerback Bralette is designed to have a stylish, athletic feel that provides the full support you need, no matter your cup size, achieved without any wires. The racerback provides a traditional fit with a pullover style to make putting these on and taking them off a cinch. The racerback is double-layered and made with WAMA's signature hemp fabric blend.
WAMA's Mission
Excited to be a National Hemp Association Business Member, supporting the growth and development of all aspects of the industrial hemp industry. Their mission is simply to pioneer the hemp underwear industry by making the best hemp undies in the world, constantly improving fit, function, and design. During this process, they hope to bring more awareness to using hemp as an option for clothing, especially underwear.
Also, WAMA is involved in the Business Social Compliance Initiative to help integrate social compliance and promote good working conditions among suppliers. WAMA takes pride in being a vegan company and being an officially PETA Approved Vegan brand as well.
As they studied hemp textiles, they learned that hemp fabric has many benefits like being naturally anti-bacterial, super soft, and breathable. Quickly realizing that the best application for hemp fabric would be hemp underwear, that is how WAMA was born.
Starting from scratch creating and perfecting their unique hemp fabric, WAMA had a meticulous and super-long design process because they wouldn't accept anything less than perfection.
For most consumers, this would be their first experience with hemp underwear, so they obsessed with every detail from the stitches, pattern pieces, colors, and overall design. They wanted everyone's first experience with hemp underwear to be nothing short of amazing.
Eco-Friendly Production
WAMA is committed to following the best practices that support their people, the environment, and the growing community. Therefore, taking responsibility for creating a positive impact on our world through safe and fair labor practices, eco-friendly initiatives, and respect for community values. Dying their fabric in a facility that is Oeko-Tex Certified, ensures that the fabric has been tested for harmful substances and that the fabric is therefore harmless to human health.
As a Green America Certified Business, WAMA shows leadership in the green business field and is committed to positive social and environmental change through its production practices.
Join The WAMA Family For Discounts
Sign up to be a WAMA family member to receive 15% off your first order, and to stay updated on all the latest styles. Be among the first to get notified of sales and flash deals as well.
Even if you decide not to join the WAMA family, you should try at least one pair of their underwear to find out what the hype is all about. What's the harm in investing in the most comfortable and best-designed underwear on the planet?
I bought my undies from WAMA and I am not at all dissatisfied. I got the 3-pack of bikini briefs for $69.00 and will be going back to purchase the 6 or 10-pack, these are quite simply the most comfortable panties I have ever owned in my life.
There are so many reasons to buy your underwear from WAMA, you will only discover them by making your first purchase.
Enjoy FREE US Shipping & Returns on products that are: Anti-Bacterial, Sustainable, Durable, and Breathable. It just makes sense.
As always, thank you for visiting my website and reading my article about WAMA Hemp Underwear. I hope you found the review informative and helpful in some way.
Please feel free to leave a comment below either with your experience with WAMA products or the overall topic.
Stacie Fortson
Go Green With HempSF